Durdle Door Holiday Park Selected As Finalist in Dorset Tourism Awards 2020
15 Jan 2021
We're Finalists!
Thanks to the hard work of each and every one of our team members over the past year, we've been selected as a finalist in the category of Touring, Camping, Caravanning and Holiday Park of the Year in the Dorset Tourism Awards 2020!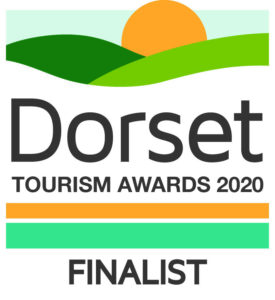 A fantastic improvement on 2019 when Durdle Door Holiday Park was Commended for the same award, we're extremely pleased to have placed in the final 3 for this category. We very much look forward to the Awards Night on 4th February when we will find out where we've placed! Will in Gold, Silver or Bronze?
The Dorset Tourism Awards 2020 application was an important part of our year. The tourism industry has faced so many challenges this year, like every other, which is why we decided to continue to show our commitment to improving our guests' experience with us. We provide peaceful family holidays on the Jurassic Coast in a variety of different accommodation, from luxury Holiday Homes and glamping Cabins, to tent camping in the Rookery or Camping Pods.
What's new at Durdle Door?
This year, the improvements we've made include renovating our Touring & Camping Facilities in response to feedback,  creating a new laundry room and bin bays within our camping block as well as overhauling the showers, toilets and dishwashing area with a huge facelift. 2021 will also see us taking back management of our on-site shop, and the opening of Durdle Door Stores. From our well-liked convenience shop we will offer every ingredient you need to create a meal from your accommodation's self-catering kitchen, or a pack of meat or veg for your barbecue.
What are the Dorset Tourism Awards 2020?
In terms of the Awards themselves, Clare Bushby of headline sponsors Clockwork Marketing says: "The Dorset Tourism Awards are more vital than ever before. They provide normality during a surreal time, where everything seems weighted against hospitality. Equally as important, they give credit—where credit is more than due. Rather than despairing, entrants into this year's awards have been remarkably inventive when faced with the impact of coronavirus. They have shown, against all the odds, that a pandemic needn't stand in the way of excellent hospitality. This is in no small part due to their unflinching resolve and unbreakable passion for their industry.
"At Clockwork Marketing, we're proud to sponsor The Dorset Tourism Awards and have a deep respect for the solidarity they represent. We also salute the admirable businesses taking part. May they enjoy the unbridled success they deserve in the future." 
Chair of the Judging Panel Professor Peter Jones adds his congratulations: "Dorset tourism, like tourism the world over, is demonstrating resilience and fortitude in coping with the impact and implications of Covid-19 in some amazing ways. This year's entries into the Dorset Tourism Awards are no exception. Entrants demonstrated creativity and innovation, passion for the industry, and enthusiasm in providing a great experience for their customers in the most difficult of circumstances. 
"Even with an understandably slightly lower number of entries, the standards remained incredibly high, and all entrants are to be congratulated on their commitment to wanting to demonstrate their successes and to the future of tourism in Dorset. Well done!"
Book your Award Winning stay at Durdle Door Holiday Park and find out why we're finalists!