Family Holidays at Durdle Door: My Childhood Memories of the Most Amazing Place
5 Mar 2021
As Customer Care, we often have the most incredible phone conversations about family holidays at Durdle Door. Men, women and families who have been coming to Durdle Door for years and years, often spanning generations, hoping to book a holiday once again at their favourite place. The people we speak to often can't help but spout tales from their childhood, remembering days gone by and happy moments that stood out to them from their time here. Perhaps they first came as babies or children while their grandparents owned a holiday home here, or they've come by themselves year after year, creating their own traditions.
Today, we received an email from Angela Poulson that so wonderfully evokes the fond childhood memories which we strive to produce here at Durdle Door.
*Submission has been edited for clarity.
"I just wanted to let you know that my childhood memories of the most amazing holidays are at Durdle Door campsite.
My Nanny and Grandpa owned their own static caravan on your site for many years. It had orange flowery curtains and, well, everything orange! Hence our family's holidays, right from being a tiny baby, we're at Durdle Door, Dorset. My Grandpa was great friends with the gentleman that managed the park, as home for them was equally Durdle Door and Leicester. They spent so much time there. I feel a little emotional just typing this as sadly my dad passed away a couple of years ago, and it is down to him that my mum, brother and me had the most wonderful family adventures.
I cherish the most amazing memories..
Back then there was a farm at the top of the hill (now Durdle Door Holiday Cottages) as you entered that sold fresh fruits, milk shakes and milk. As a little girl, I used to be allowed to walk up there to buy lovely fruit and I spent most of my time talking to the horses on the way up and back in the field on the hill, passing the toll booths and the little office hut.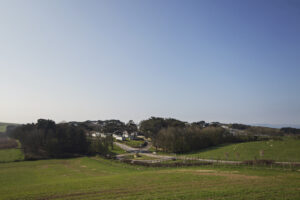 I have memories of rolling the water barrel to the water taps, arguing with my brother who's turn it was and buying a slush puppy blue drink from the shop.
My dad used to fly his remote control glider on 'the pimple' (Hambury Tout) and we'd walk all the way with our dog to Lulworth Cove for a drink outside the pub. I remember the shop that sold stones, gems, fossils and treasures and the little stream that flowed by the road down to the sea past the little cottages.
I remember the beautiful walk – with not so many people – down to the Door. All the steps down to the beach… we honestly have photos of our family on the beach with me in a carry cot. My dad used to carry me all that way – up all those steps! And boy, do I remember the tears having to walk all the way back up the steep hill, crying to be carried.
Oh, and the rare treat of an ice cream from the van!
In later years, we'd learn to ride our bikes on the caravan park, look for glow worms, learn how to fish off the rocks, learn how to snorkel, fly kites, roller skate and just enjoy the wonderful scenery of Dorset…
I can still remember looking out the big caravan window at night watching and hearing the magic of the tanks firing shells out to sea.
My mum would make us a pack up and off we would go for the day. We'd visit Weymouth, passing the 'man on his horse' (Osmington White Horse), for Punch and Judy and the arcades. Studland's sandy beach. Crabbing at Poole, and so much more. My dad and uncle used to share a speedboat called Polo, many an adventure we had in that as well.
In later years we have made the odd trip to Dorset and passed through the site to Durdle Door. Unfortunately time moves on.. it all seems a lot busier: the secret of Durdle Door is no longer a secret and now shared by many, but my childhood memories will always stay and seem magical. I've always wanted to bring my husband and boys to Durdle Door to share the magic. So this year I'm doing just that. I'm hoping that my family will make some wonderful memories of our own this July. Here's hoping they will want to come back all the time like I did."
Thank you Angela for sharing your memories.
If you'd like to experience the Durdle Door magic and start your own family tradition, explore our accommodation today.