Beginners' Guide to Static Caravan Holidays
15 Mar 2020
Escape to a little piece of paradise in one of our luxury static caravan Holiday Homes. If you're a first-timer, you may need a little convincing as to why a Holiday Home is the best option for your family. After all, it's hard to picture from the outside exactly what you might find inside if you've never seen first hand.
Rest assured, all of our hire fleet are less than 3 years old and we've just taken delivery of three BRAND NEW, 2020 Willerby Castletons.
We have 2 bedroom, 3 bedroom and 4 bedroom Holiday Homes to sleep up to 8 people. These usually consist of 1 double bedroom and 1 or 2 twin rooms, although the 4 bedrooms have an extra double room. For families, this can mean the kids are confined together in a smaller space than they may be used to, but since you'll be out exploring all day, you shouldn't find it's a problem!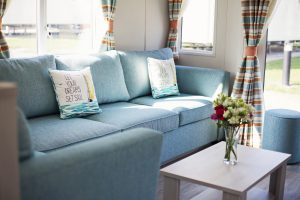 Static caravan tips for beginners
Choose your Holiday Park wisely. Make sure you do your research, so you know there is something for the kids, and that your dog will be welcomed.
The price you see is the total cost. As a peaceful Park, we don't have flashy amusements or a pool, so there's no need to think about buying extra passes when you arrive. All your utilities and bedding is included.
Need accessibility? The ABI Derwent is specially made for you, and has a hoist in the double room as well as ramp access and wheelchair accessible countertops.
Plan your journey. Naturally Durdle Door is the place to be in the summer holidays, which can add onto your journey time. With check-in at 4pm, why not plan to arrive early and make the most of your first day in Lulworth? We can advise on the best places to see while you wait for your key. What about Monkey World or the Tank Museum?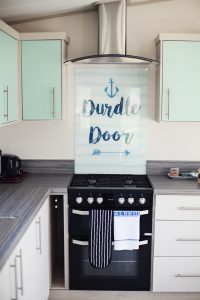 What to take on a static caravan holiday
Towels and tea towels, washing up liquid and sponge, bathroom soap. Washing detergent if you plan on using the washing machine – or not if you want to take advantage of our laundry service.
Your rain coat – that way even the weather can't stop you from exploring our stunning surrounding beaches and villages.
Don't worry about packing all your food for the week – either order a grocery delivery via any of the large supermarkets to be delivered directly to your Holiday Home door, use our on-site convenience store, or sample the delectable Man O' War Bar & Restaurant, also on the Park itself.
Bring along your furry friend. We have dog-friendly units available, without compromising on cleanliness.
Taking the baby along with you? Don't worry about packing the travel cot and high chair, you can hire these via your booking. Just bring cot bedding!
A good book. If you've the luxury of free time (and aren't travelling with noisy children!), take the opportunity to escape into a good book, nestled in a comfy chair.
Trainers or walking boots for the obligatory trip to Durdle Door beach. The stony track is unsuitable for flip-flops!
A BBQ! You're more than welcome to sizzle some sausages during your stay, we just ask that the BBQ itself is not set directly on the ground or on the picnic table.
Learn more about Holiday Homes and book your first unforgettable break in a static caravan!