Incredible Engagement Photoshoots at Durdle Door
15 Mar 2020
We can't imagine a more stunning backdrop for engagement photoshoots than Durdle Door beach. With the famous rock arch in view, and several fantastic perspectives, it's easy to get incredible shots to celebrate the beginning of your commitment.
If these photos have inspired you, contact any of these photographers via their website to arrange your own photoshoot, (gaining permission through the Lulworth Estate first!)  or grab a friend and a camera to take your own!
Looking for the next step? Lulworth Weddings at Lulworth Castle offer a fabulous, exclusive venue for the most special day of your life. Check out their mood board gallery of images for inspiration for your big day.
Ben & Nigel, shot by Louise Adby Photography
This natural shot focuses on the happy couple while still prominently featuring Durdle Door in a soft background.
2. Emma & Lee, shot by Hannah K. photography. www.hannahkphotography.co.uk
This image needs #nofilter, showing off the sunny day on the beach evident in the blue sea.
3. This madly in love couple, shot by Imogen Xiana.
We are obsessed with this dramatic shot which gives the impression of being caught in a storm.
4. Sam & Sophie, shot by Colin Ross Photography
Durdle Door lends itself to a moody shot here, proving its beauty on even a dreary day. Luckily the couple have each other to keep warm.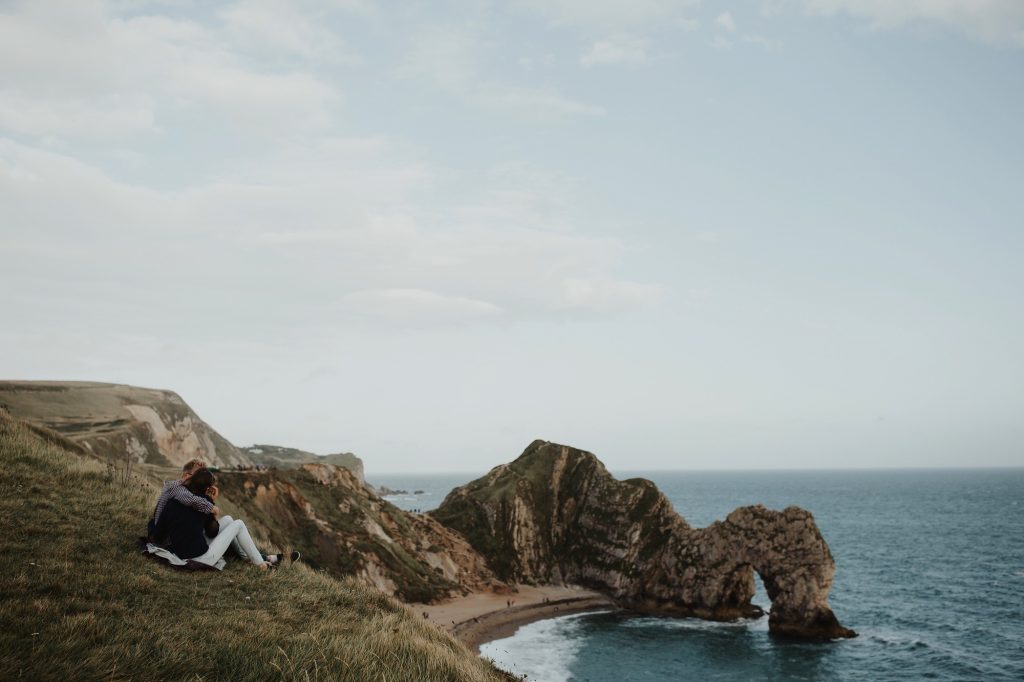 Colin Ross Photography
Perhaps you're thinking of planning a surprise proposal as part of a special holiday? Explore our accommodation options, from luxury glamping to coastal cottages, for an unforgettable experience in 'your place', Lulworth.