Summer Owners Event: 'Great British Staycation' Party!
21 Aug 2021
A huge success, our 'Great British Staycation' Street Party Owners' Event went off without a hitch. It may have been touch and go with the weather forecast predicting rain right up until the final hour, but we soldiered on as we wouldn't let the Great British weather stop us from having a fantastic time at our owners' event!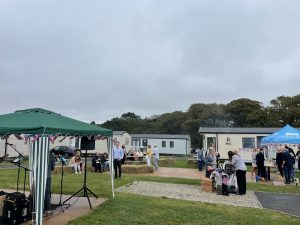 We ended up being incredibly lucky with the weather, with the rain stopping about an hour and a half before the event was due to start. This gave us plenty of time to mix up the jugs of Pimm's and fill the flutes with prosecco.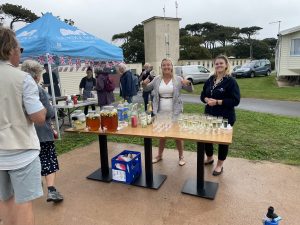 We welcomed The Royal Ts, a local three-piece band, who were brilliant! They played a great selection of popular songs that lifted everybody's spirits and really got the owners' event going.
The chefs from the Man O' War Bar & Restaurant provided a delicious BBQ of burgers, frankfurter hot dogs, salads, and scrummy Eton mess style desserts, plus three 'Great Britain' themed cakes which were demolished very quickly!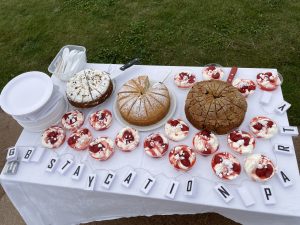 The highlight of everybody's day was surely the huge number of puppies that were brought along to join in the fun.
We also held a raffle, with amazing prizes donated from lots of our suppliers including Southern Counties Leisure, Surf Bay Leisure, Broughton Leisure, Scott Conner, Wired Solutions, Lulworth Estate Venison, Vinyl Solutions, and many more. Entry donations were raised to the amazing sum of £352 which will be sent to The Jurassic Coast Trust, our charity partner.
We love holding Owners events. Since it had been so long since we'd been able to do so, we thought this summer was a great opportunity to get together and celebrate. For so many of our Durdle Door community to come along made it all the more special.