Team Spotlight: Grounds keeping
12 Nov 2021
Just as within all departments, grounds keeping at Durdle Door Holiday Park is a varied role . It's much more than mowing the grass!
Here, we strike a delicate balance between a well-maintained space for our holidaymakers to enjoy spending time outdoors, as well as fulfilling our duties as part of the David Bellamy Awards for wildlife conservation.
What do the grounds keeping team do at Durdle Door?
Our grounds keeping team currently is a close-knit team of three, with Frank joining us most recently. Frank moved to Durdle Door from West London. He has really enjoyed living by the Jurassic Coast and having the iconic Durdle Door on his doorstep. Frank describes working at Durdle Door as kind of 'working holiday' and has hosted different friends and family almost every weekend of the summer! All of whom of course have been envious of Frank's new lifestyle.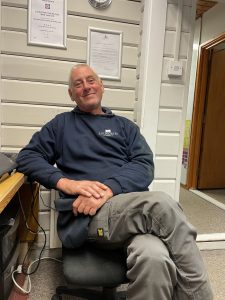 Overcoming obstacles during Summer grounds keeping
During the summer, grounds keeping largely consists of mowing grass, hedge cutting (when resident birds aren't nesting!) and strimming.
Unfortunately, our ride-on mower has been out of action for a large portion of the season leaving our team with just a fleet of push mowers. Estimated at about 80 miles per week, the team has persevered with the rota for making sure all the grass is mown.
Luckily lots of our owners prefer to cut their own grass which helps – there are lots of lawn perfectionists out there!
Our team works to the principles set out by the Higher Level Stewardship Scheme which requires that our work is in harmony with nature.
Frank himself is not phased by outdoors, physically demanding work. Well known as our resident Facebook group meme king, Frank has fully immersed himself in Durdle Door life.
The summer season is when our Holiday Home Owners make the most of spending time here. Frank says that the favourite part of his job is being able to make time to stop and talk to Owners.
Holiday Cottages in Lulworth Dorset
As well as the Holiday Park, our grounds keeping team look after the mature gardens, courtyards, and established grounds at our various holiday cottages. All within 10 minutes of Durdle Door or Lulworth Cove, the cottages in particular require a lot of upkeep. Colourful displays of flowers, flowing wisteria and even a fig tree are carefully maintained for our guests.
Winter grounds keeping at Durdle Door
During the winter season, where the Holiday Park is closed, attention is turned to the hedges, winter planting, and helping with larger projects. This winter, a lot of work will go into repairing the ground and re-seeding after some extensive infrastructure works.
Our holiday reviews often mention our well-maintained grounds, showing what an asset it is to our holidaymakers and Owners alike.
If you would like to know more about what goes on behind the scenes at Durdle Door Holiday Park, keep an eye on our blog. If you'd like to experience our Park for yourself, explore Holidays or consider Holiday Home Ownership.