Behind the Scenes at Lulworth Weddings Coffee & Catch Up
14 Jun 2021
Two members of the Lulworth Holidays team, Cally and Emma, spent a wonderful, sunny Sunday at Lulworth Castle last week talking everything Lulworth Weddings!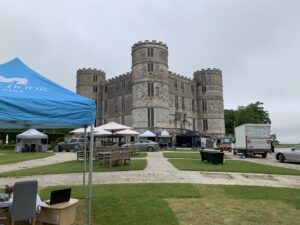 Lulworth Weddings' Coffee & Catch Up was a fantastic opportunity to bring together brides, grooms and wedding suppliers face-to-face. Those brides and grooms who have booked weddings over the next few years who hadn't yet been able to speak in person with the incredible vendors, designers and caterers were given the day to talk all things weddings and it was fantastic to finally be able to put names to faces!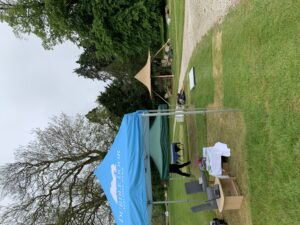 It was great to meet everybody, as well as to admire the stunning setups by each of the suppliers. We were next to the beautiful House of Styling pitch which we were very envious of!
Emma and Cally spoke to several families who have already booked their Lulworth Cottages wedding accommodation, as well as some who are still considering the best options for their wedding party (we hope you enjoyed the take-away Lulworth fudge bags!).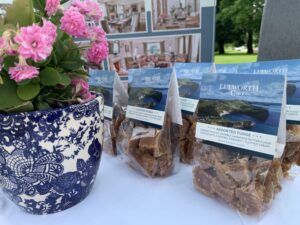 With a minimum of a 3 nights' stay, we can turn your wedding into a real weekend-long celebration or mini staycation for your family and friends, with Cottages to suit all types of families.
Some of the best options for wedding accommodation for your Lulworth Castle wedding include The Lindens (sleeps 16) and Woodside Lodge (sleeps 14), both of which are walking distance to the Castle itself as well as being right across the road from each other. Here you can host multigenerational family groups, bridal parties or a combination of everything under one roof – a great way for both sides of the family to get to know each other!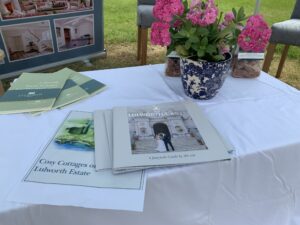 Other options for a fairytale cottage style escape include Cove Cottage (sleeps 6) and Spring Cottage (sleeps 4) at Lulworth Cove – just 10 minutes away in the popular fishing village of West Lulworth, where you'll also find Number 7 (sleeps 6) and 8 Coastguard Cottages (sleeps 5).
We also have the Durdle Door Holiday Cottages Complex at Durdle Door (10 minutes from Lulworth Castle at a push!) with cottages to sleep between 2- 6 people with a communal swimming pool and games barn to share.
Don't forget your family and friends as well as the bride and groom are eligible for a 10% discount on Lulworth Holidays and Durdle Door Holiday Park as part of your Lulworth Wedding!
For any enquiries, please contact the friendly Lulworth Holidays team on 01929 400888 or cottages@lulworth.com.