What to bring on holiday to Durdle Door
10 Apr 2021
You've seen the photos of the iconic stone arch, you've excitedly booked a holiday and you're now looking forward to your trip – and wondering what to bring on holiday to Durdle Door to get the most out of your time here.
What kind of traveller are you? Do you pack light or is it more of an 'everything but the kitchen sink' style chuck everything in the car? If you're anything like us, you'll be searching the internet for kit lists and packing check lists… so here are our top tips on packing the essentials for your trip to Durdle Door.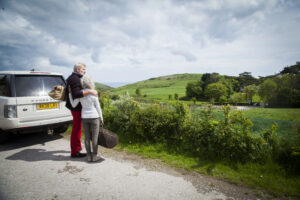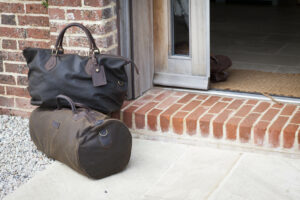 How to pack light for a trip to Durdle Door
Preparation is key to enjoy a day on Durdle Door beach. The nearest facilities are in the beach car park – a 20 minute walk up or down a steep gravel track. If you have small children that will need frequent trips to the loo, perhaps consider Lulworth Cove instead as a much more accessible day trip.
If you plan to bring an infant to Durdle Door, I'd highly recommend a baby carrier or sling rather than a pushchair – you simply won't get a pushchair down all the steps!
Walking boots are your best bet for a day on the Jurassic Coast. Walking boots you gasp?! Yes, really – the beach is pebbly so it is quite difficult to walk on. Not to mention the steep gravel track that you'll have to scale – definitely not flip flop appropriate. As an added bonus, if you fancy exploring more of the coast path, the terrain is very hilly so your ankles will thank you for the extra support in your walking boots.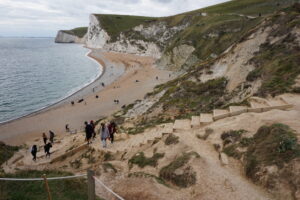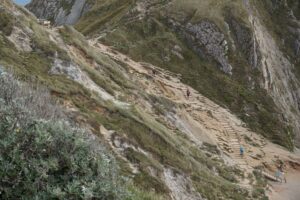 Essential items for my trip to Durdle Door
If you're thinking of packing toys for the kids – don't worry about that! Pebbles are the old-fashioned toy that will get parents involved in skipping stones, making mandalas and balancing rocks all day long.
On a sunny day, it can be tricky to find some shade. A lightweight, pop-up beach tent is a great idea to keep everybody cool – and pop it in your backpack for ease of carrying. Grab a blanket or use your beach towels to sit on – again, ones that fold up small are ideal.
Dogs will also love chasing sticks and stones into the sea – but otherwise a ball is always on my packing list for a day trip!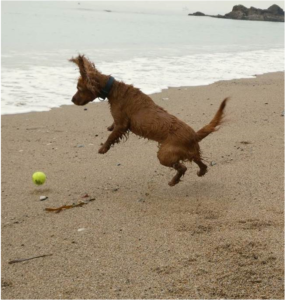 Food and drink at Durdle Door
If you're planning a day on the beach, it can be tempting to bring an ice box or picnic basket down with you – but don't forget, you'll have to carry it (and your litter!) back up with you at the end of the day. If the forecast is hot, pack your lunch the day before. Keep it in tupperware boxes in the fridge overnight (use the fridge in your holiday home, Skylight Cabin or in the camping dishwashing area). Then, pack it all into a backpack with frozen bottles of squash to use as ice packs and later as refreshing, cool drinks.
Importantly, you'll need lots of fluid to keep hydrated. Choose a reusable cup or bottle that you can #refill with water for free from the taps in the public car park.
Don't forget there are ice creams and burgers to be enjoyed at the start of the coast path for those last minute treats.
When you're back from your beach day, find amazing food and drink at Durdle Door and Lulworth to refuel you in glorious surroundings.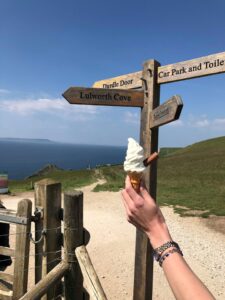 What do I need to bring for my holiday?
As for your accommodation, you'll find everything you need in our self catering holiday homes or glamping cabins, from potato peelers to dog bowls – all you need to bring are your own towels.
Covid-wise, we've hand sanitisers on all heavily-trafficked areas such as the children's playgrounds, Reception, shop, Man O'War Bar & Restaurant and all public and shared facilities.
Explore the Jurassic Coast from Durdle Door Holiday Park – search accommodation and more.